Yesterday, I had some friends over for lunch.  It was a small, casual affair so we ate a yummy lunch of soup and salad at the kitchen table.  I decided not to go with your typical fall colors of orange, yellow and brown.  My new etsy pillows are grey and blue, and I already had a blue and brown table cloth from Anthropologie.  One of the reasons I do this blog is to give all of you out there new ideas or good resources.  So, today, I thought I would go through my table setting and share where I got everything.  I think it goes to show that you don't have to spend a fortune to set a beautiful table.
Tablecloth on sale from Anthropologie about three years ago.  The pumpkin came from Whole Foods.  The candles and hurricanes are from Pier 1.  Always remember, never put scented candles on a table while your eating.
I love these bowls!  I got them for Christmas last year.  They are the perfect size for soups, chili, and pasta.  You have no idea how long I looked for bowls just this size.  They are from Anthropologie, and they had them yesterday!  Just checked the site, and they are gone 😦  Here is another option for you.  My mom bought the Flame Leaf Bowls, and they are very cute too!
I have some beautiful crystal goblets that go with my Vera Wang china.  When I put everything together, they were just too fancy for this event.  My everyday glass were just not looking up to par, so I started to look for some new tea/water glasses.  I found several options on Anthropologie, but, alas, the Anthro of OKC is not quite finished.  And I didn't really want to make the trek to the mall with the toddler.  So I did some brainstorming…
Here is what I wanted: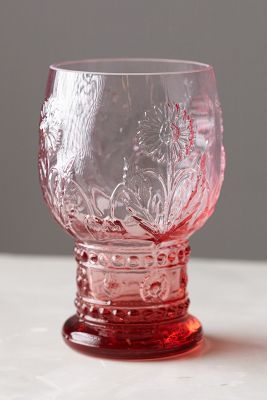 Here is what I found, at Dollar General!
Isn't it cute!?  They are really nice, heavy glasses.
My everyday white plates from Crate and Barrel are very nice, but they didn't really look great with the blue and white Anthro bowls.  Again Dollar General had just what I was looking for.
I think these are the perfect size for luncheons and showers.  I'm planning on going back to buy about 30 more.  I love using real plates at showers instead of paper.  I think it makes things so much elegant and special.  I had some cloth napkins from Ikea, but they were not looking so great.  These napkins came from Tuesday Morning.  The napkin rings are from Bed, Bath and Beyond.
I'm loving my new pillows.  I've been very happy with the quality.
The two turquoise and burlap flag pillows are from Wisteria a couple of years ago.  They grey and white stripe are from the etsy store Modern Marvelous Home.  The ikat pillow is from the etsy store Martha and Ash.
Every party should have fresh flowers.  I don't like spending a lot of money on arrangements, so most of the time I do them myself.  One of my favorite places to get flowers is the Homeland by my house.
I hope you are having a wonderful fall season.  I would love to hear some of your favorite table or party decorating tips!